Scholarships
Student Access & Success
Longtime Donors Pay it Forward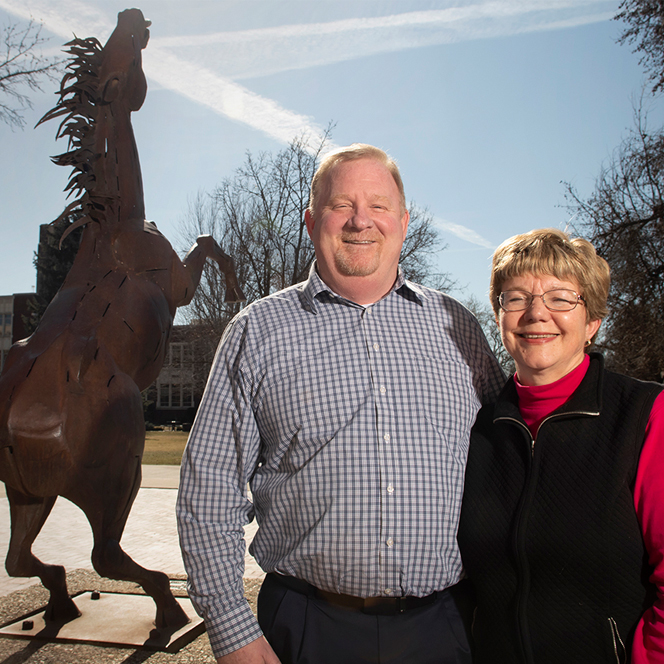 Glen Walker and Caile Spear are longtime donors, showing unwavering support to Boise State University students with contributions spanning over a quarter-century. 
These Chaffee Guild Members  — donors who give at a leadership level  — consistently extend a financial lifeline to countless students, recognizing the journey students undertake to pursue higher education.
"I benefited from the scholarships other people contributed to as an undergraduate, so I'm paying it forward," said Caile, a professor emeritus in the School of Public and Population Health. "My former students used to tell me how important my support of them as an advisor and teacher was to their success. Students can't remain in school without financial support."
Glen, a Boise State alumnus (BBA, finance, '98; BBA, accountancy, '14), also believes it's important to give back to his alma mater and says his career and life benefited from his education.
"Boise State provided the educational foundation for my career. I wanted to give back to the students of Boise State because my peers helped me during school." — Glen Walker, alum and University Foundation Board member
Beyond their financial contributions, the couple actively volunteer to bolster the Boise State Alumni Association and Foundation. Glen holds the treasurer position and chairs the finance and audit committee on the Boise State Foundation Board of Directors. He is also a dedicated member of the Unbridled Campaign Committee.
"Serving on the Boise State Foundation has shined a bright light on how important it is to fund more Boise State scholarships," Glen said. "A strong foundation helps bring in the needed dollars to provide student scholarships. 
The couple are members of the Lyle Smith Society with an endowed scholarship for volleyball. Caile established the Public Health Major Scholarship and Glen established the Glen Walker Finance Scholarship.
Glen and Caile continue to nurture and enrich the two endowed scholarships they created, stressing the imperative need to assist undergraduate students in pursuing academic success. Glen emphasizes, "An increasing number of our students require scholarships to alleviate the financial burden of their educational expenses, which they often cannot cover out of their own pockets."
Be a Part of The Campaign for Boise State
Help create the blueprint for what's next.