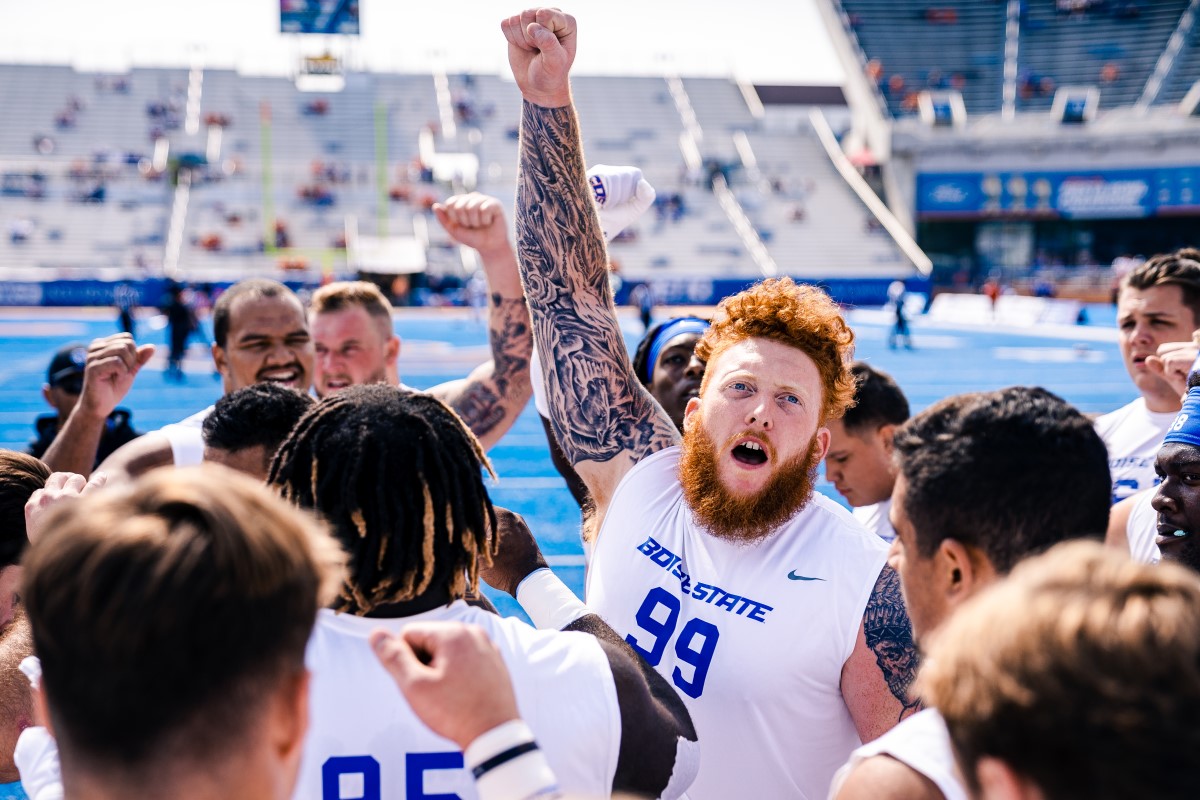 Another dream for Scott Matlock in the NFL
In the weeks leading up to April's NFL Draft, Scott Matlock took nothing for granted.
When he visited NFL teams, the former Boise State defensive lineman still was excited by the fact he would get picked up at the airport by someone holding a sign with his name. He took photos each step of the way, seeing cities he never imagined himself in.
"I'd visit a stadium and just had to take a deep breath, kind of stand there and think, 'wow, I'm actually here, I might play on this field,'" Matlock said.
On April 29, a dream that seemed far-fetched not too long ago came true — Matlock was drafted in the sixth round, the 200th overall pick, by the Los Angeles Chargers.
"I couldn't believe it was happening," he said.
It may not have been too surprising for anyone who saw the 6-foot-4, 308-pounder rack up 11.5 career sacks, block three kicks and even catch two touchdown passes on offense. But Matlock's story on how he even got to that point is what makes his tale unique.
When he was 9 years old, he lost his father Doug to cancer. Just four years later, his mother Lisa died of heart disease. Matlock found her on the couch and tried to perform CPR, to no avail.
A Boise native, Matlock was suddenly left without anyone to care for him. His older brother Steven Matlock was a freshman at the University of Idaho.
But Mike and Donna Marose of Wilder, Idaho, about 45 miles west of Boise, wanted to be part of the foster system after their own children had grown up. Matlock would enroll at nearby Homedale High School, with about 350 students, a student body one-third the size of the high school in Boise he was expected to attend. "He was not excited about it," Homedale coach Matt Holtry said.
It took some adjustment, but Matlock found an unexpected fit in Homedale and with the Marose family, who later adopted him. Though Homedale has won eight state football titles, it is not a recruiting hotbed. Matlock's only other offers besides Boise State were University of Idaho, Idaho State and Weber State. He is the only Boise State player to come from Homedale in the last 30 years.
"I had absolutely no idea at the time, but Homedale was one of the best things to ever happen to me," Matlock said. "My adoptive family being so caring, the coaches I had, the people I met, it really shaped me."
Today, Matlock, who graduated in December 2022 from Boise State, is honored to represent two families — the Maroses and the Matlocks. He said, "it's my 'why.'"
On his official visit to Boise State while at Homedale, his adoptive family and brother, who played offensive line at the University of Idaho from 2013-16, joined him. When Scott Matlock got the call from the Los Angeles Chargers, his brother was sitting beside him.
Matlock's Instagram handle is @proudtobeamatlock, and he's embraced the fiery red hair and Scottish ancestry of the Matlocks.
At Boise State's Pro Day in March, he wore his hair braided as a symbol of going into a battle. He would not have looked out of place carrying an axe alongside Robert the Bruce, King of Scots, 700 years ago.
"Losing a guy like Scott Matlock, it's not only his production on the field, but it's his leadership … it's a big deal," Boise State defensive coordinator Spencer Danielson said. "He's done so much for us. I couldn't be more excited to see him on Sundays."
Matlock visited five NFL teams before the draft — teams can bring in up to 30 players for a closer look — the New England Patriots, New York Jets, Jacksonville Jaguars, Cincinnati Bengals and the team that drafted him, the Los Angeles Chargers.
While visiting the Chargers, he made sure to get a photo with the Chargers' new offensive coordinator, Boise State's legendary quarterback Kellen Moore (BA, communication, 2010). Now, it means a little more, two football players from small high schools who each thrived on the blue turf that has a tendency to see those sorts of guys thrive.
"They do seem to find a diamond in the rough every now and then, maybe I was one," Matlock said with a laugh. "It was a dream come true to get the opportunity to play at Boise State … and it helped me make another dream possible."
Be a Part of The Campaign for Boise State
Help create the blueprint for what's next.