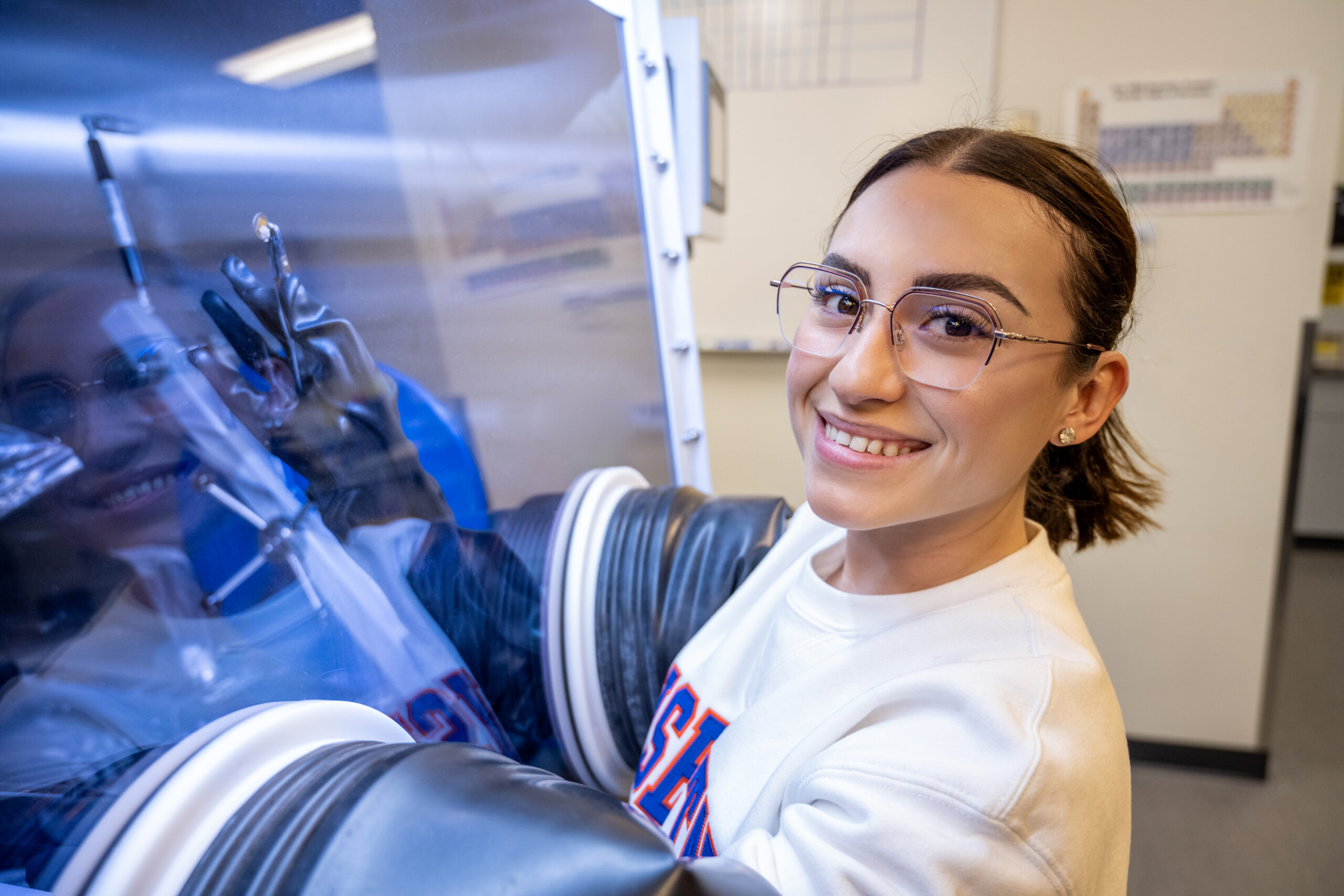 With Scholarships, Ally Almaraz Combines Nanomaterials, High Tech Manufacturing and Outer Space
In the Advanced Nanomaterials and Manufacturing Laboratory at Boise State University, Alejandra Almaraz has been synthesizing something unusual: synthesizing titanium carbide MXene ink that she can aerosol jet print into a biosensor to detect cortisol, a stress hormone found in sweat, on astronauts. The exciting thing about MXenes is that with the thickness of a single atom, they're effectively two-dimensional. 
"The more we learn about this manufacturing method with this specific material, the more applications we can apply them to in various research and industry aspects," she said. While cortisol-detecting sensors is nothing new, her research could yield further developments for the energy and pharmaceutical industries, healthcare and more. 
Almaraz is an Idahoan born in Nampa, but her drive, intelligence and Boise State education are helping her take the next step. She expects to graduate in the spring of 2024 with a bachelor's degree in engineering, but in the summer of 2022, she interned in NASA's ISGC internship program — a stepping stone on the way to a graduate degree, additional research and eventually, she said, a career in the private sector. 
Before and during her time at Boise State, Almaraz worked as a medical assistant, but when she began pursuing engineering, she knew working in healthcare wasn't for her. Scholarships, including the Idaho Opportunity Scholarship, the Frank Wong Scholarship, the COEN Scholarship and the Brown Engineering Scholarship, helped her focus on her studies. Admitted to the Ronald E. McNair Post-Baccalaureate Achievement Program (also known as the McNair Scholars Program), she is a promising student who will continue to receive strong financial support as she pursues her studies and ambitions.
"I haven't had to take out as many loans as I've had to in the past, which has been great. There are a lot more opportunities for funding than there were previously, and it's allowed me to put more focus into my studies and incredible research opportunities," she said.
Scholarships are catalysts, empowering students to overcome obstacles, achieve their full potential, and contribute to our thriving learning community.  We aim to ensure that a quality education remains within reach for all students, regardless of their circumstances. We're committed to breaking down barriers and empowering the next generation of Broncos as they shape the future of Idaho. To learn more, click here.
Be a Part of The Campaign for Boise State
Help create the blueprint for what's next.